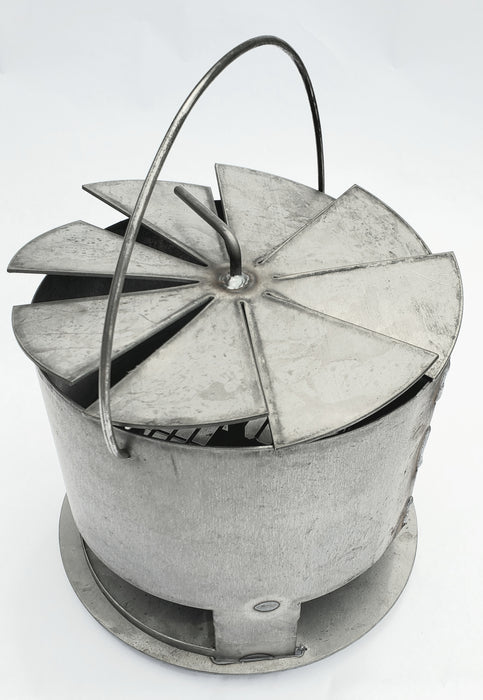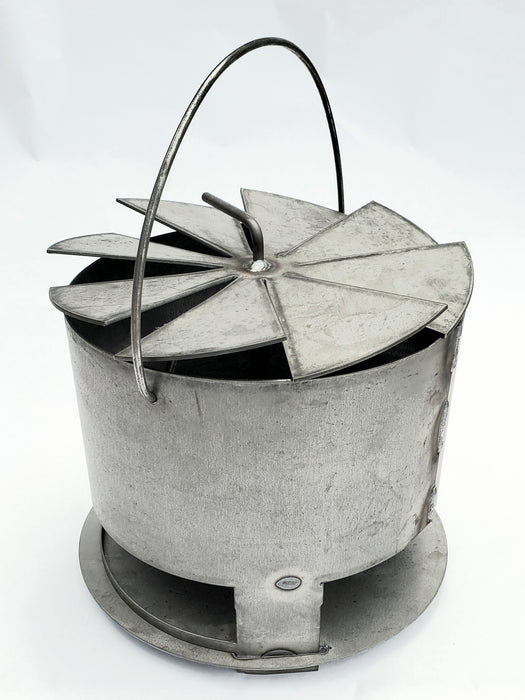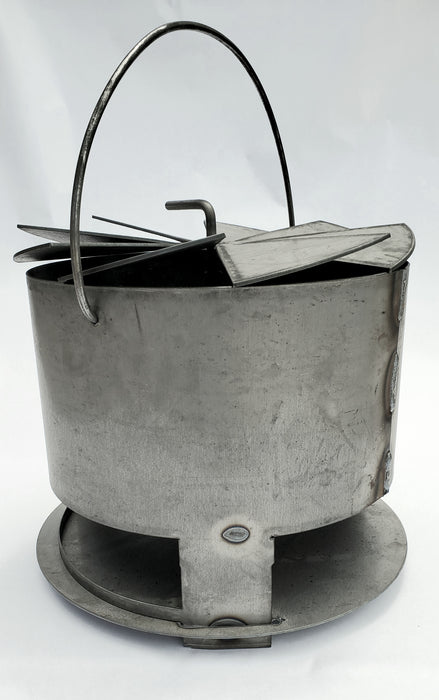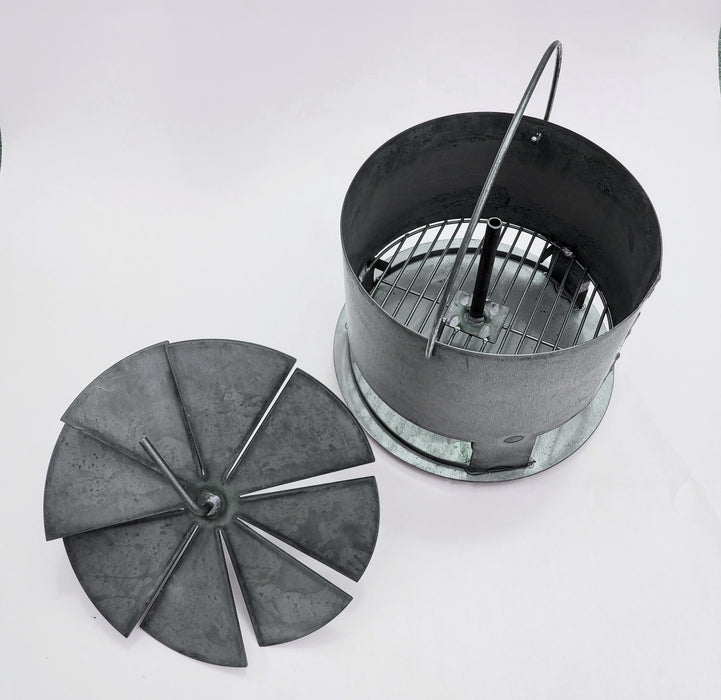 Vortex Fire Basket. The charcoal basket for pros.
The Vortex Fire Basket.  Used by professionals to help optimize top notch taste and consistency.  
 Includes:
Circular charcoal basket. Holds more than enough charcoal for an extended burn time. The circular design helps ensure a even charcoal burn.
Welded grate. Bottom grate keeps the charcoal elevated for proper air flow.
Welded leg supports. Another way to optimize air flow. Also holds the ash pan. 
Ash pan. Removable pan to reduce mess and speed cleanup.  
Curved lift handle. Metal handle makes moving a breeze.  
Vortex plate. Heat deflector causes the air to mix which helps minimize hot spots and improves flavor and consistency. 
All steel construction. Sturdy steel construction means years of service even for competition smokers.  
Fits in metal 55 & 85 gallon barrels and into 22.5" Weber Smokey Mountain smokers.
Question:  How does the vortex basket work?
Answer:  Air is forced upwards from the center air intake (controlled by the foot operated air intake lever) into the hot charcoal.  The hot air is then forced through the vortex plate at the correct angles causing the air inside the smoker to spin.  The spinning air helps maintain a consistent temperature throughout the smoker.  The vortex plate also acts as a heat deflector which helps reduce burned meat.
Question: Is the vortex basket assembled?
Answer: Yes, the vortex basket is fully assembled. Simply pull it out of the box and season it by spraying or rubbing cooking oil on the metal then put some charcoal in the basket and light the charcoal.  Place the vortex basket inside the smoker and bring the temperature to 275 degrees for two hours. 
Question: Will the vortex basket work with "other" brands of drum smokers?
Answer: We have many, many customers who throw away their old stock charcoal basket and replace it with the vortex basket and have excellent results.  It's all about the vortex difference.     
See what a customer has to say about using the Vortex Fire Basket in his drum smoker http://www.bbq-brethren.com/forum/showthread.php?t=206594
Patented.