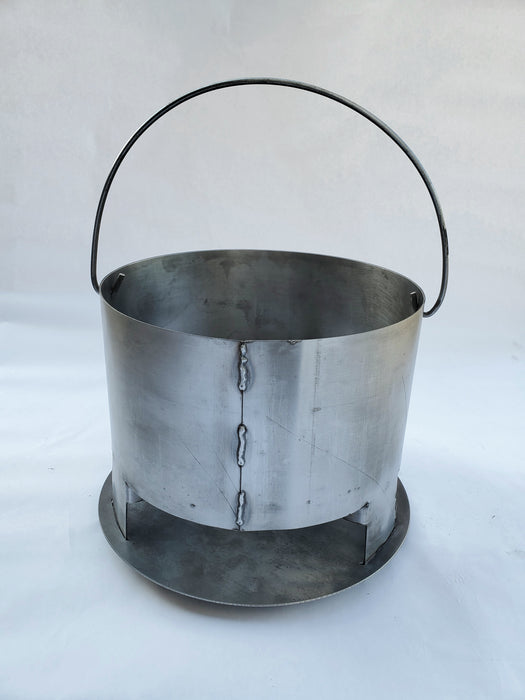 Heavy Duty Charcoal Basket
This solid wall basket is perfect for people who want direct heat (instead of using a heat deflector). The charcoal basket is made out of 14 gauge steel and is fully welded. The wire charcoal grate allows for the right amount of air to reach the underside of the charcoal. The ashpan is raised 1" from the floor to work with center air intake systems or side (tubes) air intake systems. The raised ashpan helps keep the bottom of your smoker cooler and has a convenient ash dump area built in. 
Solid wall, heavy 14 gauge construction for long life
Fully welded 
Built in raised ashpan with ash dump section
Works with center air intake and tube style air intake systems
FAQ's
How long does the charcoal burn for?
For hot and fast smoking you will have charcoal left over from your cooks. For low and slow the basket should last over 12 hours.
What are the dimensions of the basket?
14" diameter charcoal ring, 15.5" diameter ash pan, overall 11.75" tall.  
How does this basket compare to the Vortex Charcoal Basket?
This is the same basket that is used to make the Vortex Charcoal Basket but this basket does not have the center pipe or Vortex plate. This charcoal basket is more for direct cooking. 
How does this basket compare with other charcoal baskets?
We build our baskets with heavy gauge steel and full weld the basket. Some of the other basket designs are lighter and not fully welded. Our basket has a raised ash plate that helps keep the bottom of your smoker cooler and since it is raised above the bottom of your smoker it will be less susceptible to rust (metal sitting in ash can speed up rusting). 
Will it work in 30 gallon drums and WSM smokers?
Yes it will fit in 30 gallon drum smokers and will fit in 18.5" WSM and 22.5" WSM smokers.